Following last year's agreement where Betsson became the main sponsor of SHL (Svenska Hockey League), Betsson has now signed a new major deal with the league. The three-year new agreement is part of Betsson's continued investment in Swedish sport and in ice hockey in particular. Through this deal, Betsson has become SHL's exclusive betting partner.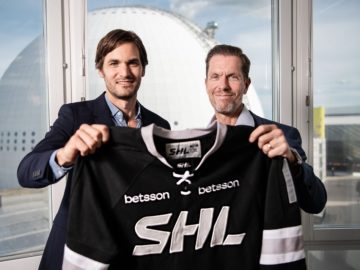 Betsson is one of the leading gaming companies in the Nordic region, with roots spanning back to 1963. Comparing to previous agreements, this new major deal sees deepening commitment of both parties together with the clubs. Besides brand exposure and the financial support to the 14 clubs, the agreement also seeks to strengthen the hockey experience, both on and off the arena.
"For us, it was given to partner with Betsson once more. Last year they showed us that they are a truly dedicated partner to SHL – in which they produced the very appreciated web-series "Fimpens Resa", SHL Bibles, and also the commendable #Målcirkeln "the Goal Circle" a charity initiative that donated money to a number of associations, including some outside of hockey. We, therefore, look forward for more good joint initiatives that can delight our supporters and increase interest in SHL for new audiences," says Michael Marchal, CEO of SHL.
"We are incredibly proud to be able to support SHL and the clubs once more. We are now strengthening the good cooperation that we have built over the years. We will continue to be the most engaging partner and certainly the most passionate one about hockey. In short, this means that we will have the best betting offers on SHL and strengthening the coverage of the league with exciting and unique content," says Jesper Svensson, CEO of Betsson Group.
As the main sponsor, Betsson guarantees the best average payout on the league during the season and will continue to open the doors to its customers by creating added value content for anyone who is into hockey.
SHL starts on 14th September.
Photo: Fredrik Axling – Sponsorship and Partnership Manager, Betsson Group (left) with Michael Marchal – CEO, SHL (right)