Century Casino Bath recently celebrated its grand opening, with TCS John Huxley chosen to supply the new three-floor casino with a host of live gaming products.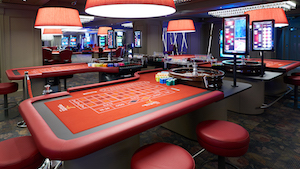 Representing the first UK operation for Century Casinos, the new location features a 15,000sq.ft gaming floor, with 19 gaming tables and a mix of 50 slot machines and electronic gaming terminals, as well as three bars and a lounge area.
TCS John Huxley provided 19 live gaming tables, 11 Saturn Roulette Wheels and one Saturn Auto wheel, 12 of the latest e-FX Displays, six Chipper Champ 2's, four A Plus Shufflers and various table accessories.
Craig Hoptrough, casino director at Century Casino Bath, said: "It has been a pleasure to collaborate with the TCS John Huxley team on our exciting development in Bath. The whole process from concept through to delivery and installation was seamless with excellent attention to detail at every stage, ensuring our vision came to fruition. We were able to personalise key elements which really accentuate the contemporary, yet luxurious feel of our new casino. We are delighted with the finished result."